Hi! I am Julie from Ve'Lace Bridal… I have something to share with you!
All of us, or at least most of us, have been dreaming about wedding dress shopping since we were old enough to know what "dress-up" was. But if there's one thing I've learned from experience, and also from working in the industry, it's this: playing dress-up and trying on a million dresses (okay, not quite a million, but you know what I mean) is NOT going to make it easier to make a decision; in fact, it's going to make it even harder! I'm here to tell you why.
Have you ever gone to a restaurant that has a menu that resembles a short novel? If so, what is the first thing you think/say when you start looking at it? Most of you will have the same answer as me: "I can't decide … there are WAY too many options!" Or, "I came here craving a burrito, and now I don't know if I want something else after looking at all these choices!" (If you know me personally, you know that Mexican food is my favorite, hence the burrito reference). Anyway, it all comes down to this: if we have TOO many options in front of us, we get overwhelmed. What happens when we feel overwhelmed? We get confused. And what happens when we get confused? We can't make a decision.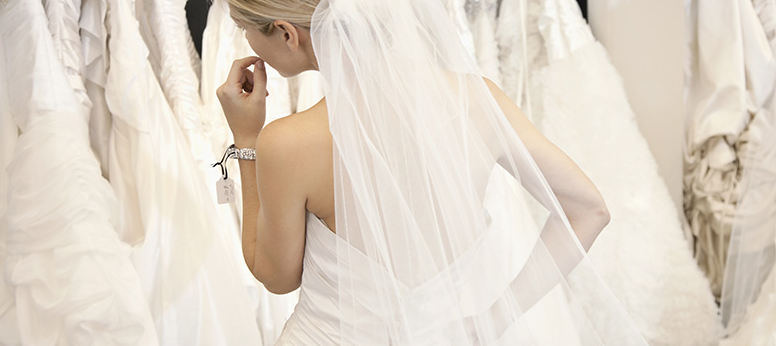 I'm not saying that shopping for your wedding dress can't be a fun, exciting experience … it's the best! All I'm saying is, try to remember that the more you try on, the more difficult it will be to "say YES to the dress." Here are some other helpful tips to consider going into your first bridal appointment:
Bring guests, but keep your group small. A large group can sometimes (unintentionally, of course) lead to too many opinions. Your aunt wants to see you in something modest and with sleeves, while your bestie wants you to choose a sexy fit and flair, and your mom wants to see you in a traditional ballgown. See, too many opinions! Our friends and family obviously mean well and want to see us happy, but sometimes it's better to stick with just a few people at your appointment!
You've probably heard this one before – go into your first bridal appointment with an open mind. I went into mine (with just my mom, which by the way, I highly recommend) thinking there was no way I was going to even try on a strapless gown. Strapless things and me – we don't get along well. It's not pretty. But guess what? When Shadia brought one into the fitting room and suggested I at least try it on to rule it out, I was VERY pleasantly surprised. I LOVED it, and I literally couldn't believe it! Wedding gowns are completely different than any item of clothing you'll ever wear, and they will also fit you completely different, so keep that in the back of your mind!
Don't forget – the decision is ultimately YOURS, and YOURS alone. Going along with my first tip, don't let other people's opinions make you feel overwhelmed or confused. I know you want to make Nana, mom, future mother-in-law and besties happy, but just remember – it's YOU and your groom who are going to be looking back at your wedding pictures. It's YOU who's going to be posting all those gorgeous photos when the photographer finally sends them to you. It's YOU who's going to show them to your daughter, and hope that she'll want to have at least a piece of your dress when she walks down the aisle someday.
Don't second guess yourself. Trust your gut. I ended up choosing the very first dress I tried on. (I obviously tried on more), but when I put that first dress back on and had the exact same reaction and feeling as I did the first time I saw myself in it, I knew that it was the one. If you're in love with two gowns, take a few minutes to look at yourself in the mirror in each of them. Try on a veil (if you're planning to wear one), and picture yourself walking down the aisle to the love of your life. If you still can't choose, look at the reactions of your guests, too. Did anyone tear up when they saw you in one, but not the other? Trust your gut, and know that you'll make the right choice!
I'll leave you with this: if you choose the right bridal boutique, trying on a million dresses won't be an issue, and here's why: you won't feel the need to go anywhere else after leaving Ve'Lace Bridal. Trying on wedding gowns is a dream come true for a lot of us; it's an experience that should feel special and exciting. Here at Ve'Lace we understand and appreciate the need to play "dress up". A truly gifted and dedicated bridal stylist, especially if this is your first time trying on, will fulfill that need by salt and peppering in a variety of dresses. We are really good at what we do, trust in the professionals to maximize your appointment time. Enjoy yourself and take it all in, but just remember the tips above, and know that your bridal consultant is there to help make the vision of your picture-perfect wedding day become a reality!
Julie
Bridal Stylist at Ve'Lace Bridal
(When booking a bridal appointment with us, feel free to request me, I'd love to work with you!)