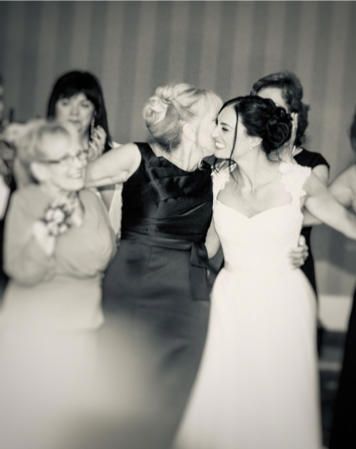 Moms, this one's for you.
Many of us grow up dreaming about the day we get to be a bride, am I right?  Well for me, that dream always included my mom.  We talked about how much fun it would be to pick out flowers, have hair and makeup trials, and just plan every little detail together.  The most special part about planning my wedding with my mom was having her with me when I picked out my dress.  I realize that our relationship may not be the norm for some brides.  My mom is my best friend and we are extremely close, but even if that weren't the case, I know that when it comes down to it, if I'm happy, she's happy.  When I came shopping at Ve'Lace five years ago, it was just me and my mom, which is what I wanted because her opinion means the most to me.  (With the exception of my husband's, but he wasn't allowed to be involved in this part!)  My mom was honest, let me know that she liked certain dresses better than others, but said to me, "Julie, it's YOUR day.  You're the bride and will look beautiful in any dress you choose. If you love it, then I love it."  I think I can speak for all brides when I say that this is the kind of support we want from our moms (and/or grandmothers, sisters, aunts, etc.) when choosing our wedding gown!
We see a lot of brides here at Ve'Lace, which means we see a lot of moms, too.  As much as brides value their mothers' opinions, it is extremely important to remember who's wearing the dress and whose dream wedding is coming to life before our eyes … the bride's.  We have seen brides walk away from their dream dress because their moms made it clear that they do not love it.  Brides have literally left our store in tears because they "said 'yes' to the dress," only to have their mom (and/or other guests) tell them what they think the dress is lacking, or simply that they don't like it.  How sad is that?!  Some brides can block out the opinions of their moms and guests and say "yes" anyway, but there are also some who cannot bring themselves to; those brides walk away upset from an experience that was supposed to make them feel such joy and excitement.
Here's what we ask of mothers (and guests) of our brides:
Trust us.  We work with bridal gowns every day, and we always have the bride's very best interest in mind. We are professionals in the field of bridal (we've seen it all) and carry the knowledge in how to help dress our brides.  
Be honest, but kind and gentle with your words. As women, we want to feel beautiful … especially when we are shopping for our wedding gown.  Choose your words wisely if there is something you don't like about how a dress looks on the bride.
Pay attention to the bride's reaction. If she is crying tears of joy, smiling ear to ear and says "I see myself walking down the aisle.  This is it," please do not focus on what YOU think the dress is missing.  The reaction mentioned above means the dress isn't missing a thing in the eyes of the bride.
Support the bride. We here at Ve'Lace Bridal realize how special this time in her life is, and she needs the support of us all!
There's a first time for everything! I bought the first dress I tried on, the first time I went shopping. (Of course I tried on more than just that one, but ultimately my dress was THE one and I just knew).  Remember that it is okay to say "YES" to the dress the first time the bride is shopping!
If you have questions about payment, our price ranges or anything regarding finances, please feel free to give us a call before the appointment to discuss. We are always happy to answer any questions or concerns you have, and our goal is to make bridal appointments stress-free and enjoyable!
Moms, you and your daughter (and the rest of your family and friends) are going to have an unforgettable time at the wedding; not because she picked the dress YOU wanted her to, but because she is marrying the love of her life in the gown of her dreams.  In the end, that's all that matters, isn't it?
I wanted to share a few photos of me and my mom from my wedding day: July, 18, 2015.  (And that's my cute little Nana next to my mom!)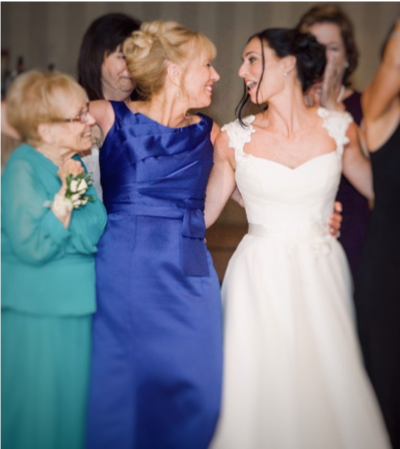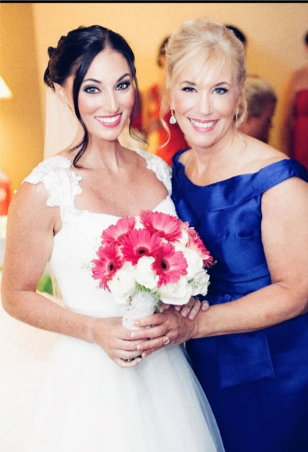 -Julie Xo