Bridesmaids 101: The Ultimate Shopping Guide!
Now that you've said yes to the dress, it's time to shop for bridesmaid dresses!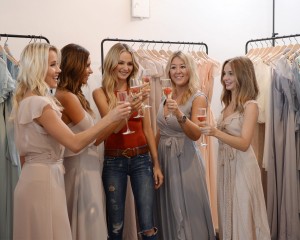 Before we get into the what's and how's…
Let's talk about WHEN!
We suggest you select your bridal gown before you start shopping bridesmaids. We can't really explain why other than the fact that we've noticed a trend with our brides that choose to start bridesmaid shopping first. They seem to have a really hard time making decisions whereas the brides that shop after purchasing their wedding dress have a smooth, fun, and stress free experience. It could just be a thing where they feel like they can't envision the girls' dresses until the bridal dress is in mind. Our take on it, the bride is the centerpiece of the wedding, she should get to go first!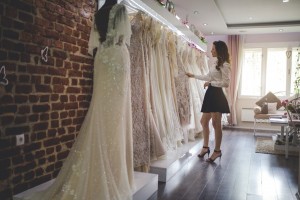 We also suggest you start purchasing bridesmaid dresses at least 6 months before the wedding. Bridesmaid gowns typically take 3-4 months to come in and you'll want to leave extra time for alterations. With that said, our bridesmaid designers do offer rush shipping. This does come with an additional cost per bridesmaid but it's nice to know it's an option if we need it. Off rack options are few and far between in our store…you'll most likely require several of the same style or same color. This is hard to find in store since we carry mostly one style/color per sample.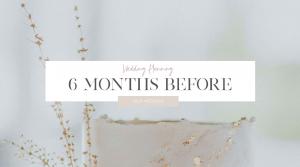 Let's chat HOW to book and WHAT to bring!
HOW to Book:
Well this one is easy, either by phone (508-966-0091), email (velacebridal@gmail.com), or through our online calendar (www.velacebridal.com). Bridesmaids of 6 or more can only book by email or phone due to system limitations. Bridesmaids of 5 or less may use the online calendar. We allow a time slot of 1 hour for bridesmaids of 5 or less and a time slot of 1 1/2 hours for bridesmaids of 6 or more. You are always assigned a stylist, this guarantees a very productive appointment!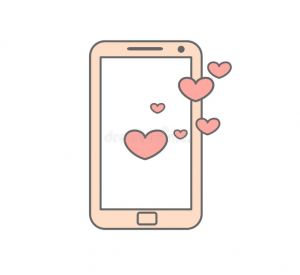 Feel free to request your bridal stylist when booking your bridesmaid appointment. It's such a compliment and really allows us to provide you that one point of contact, plus, she's really gotten to know you and did such a lovely job helping you find your dress! If this interests you, make sure to call when booking so that you can make this special request!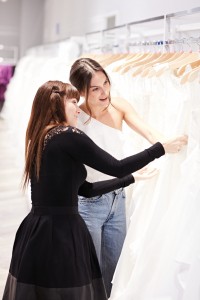 WHAT to Bring:
If you can, bring all the girls.. make sure to select a date/time that works well for everyone. This allows us the opportunity to professionally measure the girls. It also allows us to help you envision the entire look at that initial appointment.
If some of your girls are out of state or cannot make it for any other reason, not to worry! We work with out of state bridesmaids all the time. All we need is for those ladies to call us after your initial appointment with their bust, waist, and hip measurement. We then can discuss sizing and payment over the phone.
Ask the girls to bring a strapless bra and a similar heel height to what they will wear on the day of the wedding. Although not required, it's super helpful!
Lastly, inspiration photos guides us in helping create your perfect vision! Bring those along!
The 'How Process' at Ve'Lace Bridal:
We strive to provide the best bridesmaid appointment service possible! To start, we always work off of a bridesmaid checklist worksheet. Ultimately, this worksheet is what we'll order off of and where we'll keep track of all your girls' information.
Some things we will ask and need when you arrive:
Maid of Honor, her name – She and you will act as our main point of contact in case we have any questions or concerns
Total number of bridesmaids and all of their names/phone numbers/emails
What color are you envisioning, for example are you after a very specific shade of blush or open to a variation of the color?
Do you want all of the girls in the same dress or same color but different necklines? Are we doing some form of a mix and match?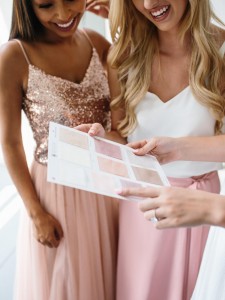 IF you are VERY specific on the color:
Let's look at color swatches first! We want to make sure we have the exact color you're looking for. Once we find the color you're after, we can shop that designer.
IF you are non-specific and open to a variation of a color or going for a mix and match look:
Let's have the girls try on dresses first since all of our designers offer some form of the color you're after! The thing to keep in mind is if you're a mix and match bride then the girls can pick dresses from a variety of designers but if they are all wearing the same color they must all end up with the same designer.
Calling all Bridesmaids!
Let the fun begin! We are so excited to offer a service as you try dresses on. We are happy to help with clipping and clamping while keeping your fitting rooms organized and tidy. And not to worry about those racks, that's our job! We hate to hover over you during the appointment but please know that we are there in the background to be of assistance.
We are very skilled when it comes to measuring! We will capture a bust, waist, and hip measurement and refer to the designer's size chart when making a suggestion. We will also take into consideration your height. Something to note about bridesmaid gowns – most bridesmaid dresses regardless of the size require alterations. This is because most women fall in between sizes. Also, the measurements we capture are as of that day, keep this in mind when selecting your size and know that going up in size for this very reason is always suggested! We always like playing it safe however you know your body best! We will make a suggestion but ultimately you have the final say in the size selection.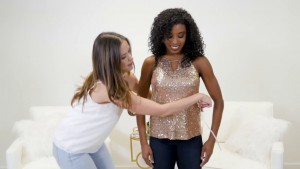 Brides!
We will be sure to offer you a swatch of the color(s) you selected, free of charge, it's part of the service! We also create a print out of all the styles chosen for you to take home and refer to, it's the little touches we can provide you that make us happy!
We will also be sure to call you and the girls as soon as the gowns arrive. If needed, we are happy to ship dresses to your out of state bridesmaids.
A few added reminders:
Discounts apply! Brides that purchased with us automatically receive a bridesmaid discount, brides that have 6 or more bridesmaids AND purchased with us receive an additional discount!
Our bridesmaid dresses range from $150 – $300 with an average price of $200.
We carry 6 bridesmaid designers: Mori Lee, Allure, Adrianna Papell, Christina Wu, Bill Levkoff, and Sorella Vita. They all offer their unique style and colors.
Some surcharges may apply such as: extra length fees, rush fees, curvy size fees, and/or tax. Bridesmaids are required to pay in full at the time of purchase but we accept all forms of payment including cash, credit card, and check.
We are knowledgeable when it comes to working with pregnant bridesmaids! We take a number of things into consideration before suggesting her size. We can help, not to worry!
We will place the order after the last bridesmaid purchases her dress. We do this to help protect the dye lots and to make sure that all girls receive the same estimated ship date.
Okay, totally off the cuff with this one…..our opinion, our suggestion. Purchasing bridesmaid dresses online is a big no-no! Why? A number of reasons……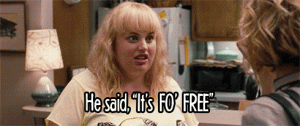 Remember that saying, "you get what you pay for"? Online purchasing does not offer you a fitting room, professional measurements, or racks of dresses that you gain access to. You might pay an additional $20 for the in store service but for a wedding with photographs that will last the bride a lifetime, it's not worth risking.
Bridal boutiques like Ve'Lace Bridal go above and beyond – we order the dresses at the same time to protect the dye lots. We also fully inspect the gowns when we receive them. In addition, we fully steam the dress to remove any shipping wrinkles. In our opinion, these added services are much better than having a dress drop shipped to your home for you to deal with.
We put you in the hands of a seamstress we love and trust! Online retailers are not going to help you with any of that.
Counterfeiting – this is always a risk when buying online. It's hard to know who you can trust, you just might receive a knock off dress and a gown of poor quality.
Okay, a few more "did you know" things we wanted to share:
Did you know…. we've seen brides ask their girls to be her bridesmaids at her bridal appointment!? It's such a great idea and the girls seem to love it! The bride usually comes to her appointment with gifts and surprises her girls either before or after she starts trying on wedding dresses!
Did you know… we carry junior bridesmaid dresses by Christina Wu, Sorella Vita, and Bill Levkoff and flower girl dresses by Bill Levkoff and Rose Buds! We love Rose Buds for their in stock program. This means we can wait as close to a month before the wedding to order the flower girl dress. As you know, flower girls are always growing so it makes sense to order her dress much closer to the wedding day.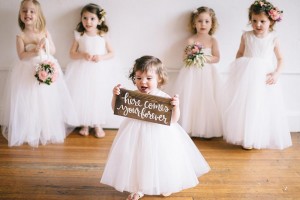 Did we miss some questions you have? We would love to hear them! Please email us at velacebridal@gmail.com with any additional questions you may have.
XO