We'd like to call it the Meghan Markle wedding dress effect!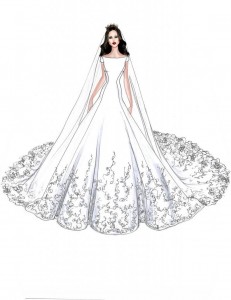 If there is one event this spring that will change the look and style of wedding dresses in 2018 and 2019, it will be the upcoming Royal Wedding between Meghan Markle and Prince Harry. The name of the designer who will create the bride's wedding gown has not yet been publicly announced, but the British media are reporting that the choice will come down to London-based Roland Mouret and the Australian-born duo Ralph & Russo (Tamara Ralph and Michael Russo), who designed Meghan's absolutely stunning $75,000 couture engagement gown. You'll definitely want to keep your eyes on Windsor Castle on May 19.
Within days of the wedding, you could start hearing stories about royal inspired wedding dresses hitting the market. Once you've locked eyes on the gown to be you too may become interested in finding the "look-a-like" dress. Thanks to one of our designers, Essense Designs, they have released some predictions! Their Chief Creative Officer, Martine Harris, was asked what type of wedding dress she thinks Ms. Markle might wear for the royal wedding. According to Martine, a ballgown with few embellishments may be the best bet! Remember, this is simply a prediction and we are just as curious, excited, and unsure of what Ms. Markle will end up wearing!