We've all heard the phrase something old, something new, something borrowed and something blue.  It's the list of items that no bride wants to walk down the aisle without.  If worn on your wedding day, these good luck charms are thought to be the recipe for a successful marriage.  It's a superstition followed by almost every bride, but why?  We've researched the myth to discover where it came from and the meaning behind wearing something old, something new, something borrowed and something blue on your wedding day.
The oldest written evidence of this rhyme dates back to the late 1800's.  The phrase comes from the English rhyme, "Something Olde, Something New, Something Borrowed, Something Blue, A Sixpence in your Shoe."  Although in present day, the first four items are most familiar, some modern brides still maintain the tradition of putting a sixpence or penny in their shoe.
Something Old
Traditionally, something old is a family keepsake carried or worn by the bride.  This symbolizes continuing her past life in her future marriage.
Ideas for something old:  brooch or pin, vintage clutch, handkerchief, button or shirt fabric from a shirt sewn inside of the dress
Our example: Lace from mom's dress wrapped around the bouquet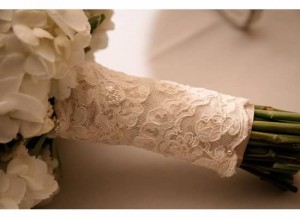 Something New
The bride wearing something new on her wedding day represents a hopeful future.
Ideas for something new:  makeup, wedding dress, perfume, jewelry
Our example:  The most common something new, is the wedding dress worn by the bride on her wedding day.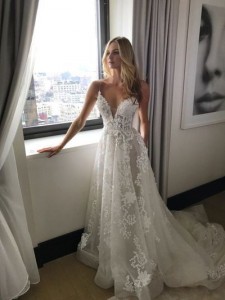 Something Borrowed
This is typically something borrowed from another bride.  It is thought that this borrowed item will transfer luck from one marriage to another.
Ideas for something borrowed:  wedding veil, jewelry, hair accessory, champagne flutes
Our example:  This bride pinned a silk flower from her grandmother's wedding veil onto her wedding bouquet.
Something Blue
Purity, fidelity and love are all represented in the something blue worn by the bride.
Ideas for something blue:  wedding shoes, sapphire jewelry, garter, sash for wedding dress, nailpolish
Our example:  The shoes!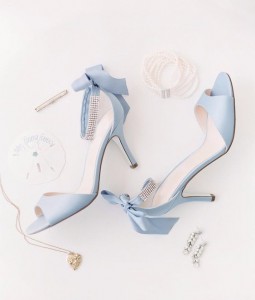 A Sixpence in your Shoe
Placing a sixpence (or penny) in her shoe symbolizes a life of wealth and prosperity.  A sixpence is a British coin, about the size of a penny, used until 1971.  It's tradition for the father of the bride to place the sixpence in her shoe, wishing good fortune for the bride and groom.  This custom is derived from a time when the bride would gift silver coins from her dowry to the groom.  You can buy a lucky sixpence for the bride here.
Check out this pic for buying, making, and creating your very own – one of a kind – something old new borrowed and blue dress pin!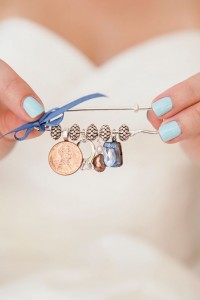 Hope you enjoyed this blog!