1. Pick your dress before your veil. You'll want to choose a veil which compliments your gown rather than distracts from it. The veil should not compete with the dress. Take your time and try on a variety of veil styles to really get the best idea of which one suits your vibe as well as your wedding dress aesthetic the best. Choose a complimentary trim or add some detail by choosing a veil with sparkly bead work. Trust in your bridal consultant to help select the styles. She is very familiar with the gowns and veils and wants you to look your best too!
2. Outline your budget. These sheer pieces of fabric can range from $150 to $400 and up, it all depends on the length, fabric and detailing on the veil. Having a budget in mind will help narrow down your choices when you begin the search for your perfect veil. With that being said, this is your special day, right? If your budget allows for it, splurge! Luckily this is not an everyday purchase, in fact, it's a once in a lifetime buy!
3. Think about what hairstyle you'll want to wear on your big day and how high or low your up do will sit. Depending on if you'll wear your hair down, half up, in a bun or braid you'll want to think of the veil placement in respect to your hairstyle. For example, if you want to wear a messy chic bun, you'll want to ask your hairstylist to place the bun not too low so that you have space to place the veil under the bun. Unless you'd like to place the veil over the bun, in which case you'll want to choose a very sheer veil so that you can see the beautiful hair style. Ve'Lace Bridal consultants will assist you in store with how the veil will look depending on where you'd like it placed – although we are not hair stylists, we do have wonderful in store "props" to help adjust your hair according to the hairstyle you might go with. By the way, you've got to check out Danielle Savard at Brian Richard's Salon in Franklin MA (http://brianrichardsalon.com) – she is the QUEEN at creating gorgeous bridal hair!
These are simply a few elements to think about when choosing your veil, but you know your style best and should choose whatever veil makes you feel AMAZING on your wedding day. We also realize that veils are not for everyone, we also specialize in headpieces and other hair accessories. We support whatever look you want to achieve! Come by the shop and give them a try!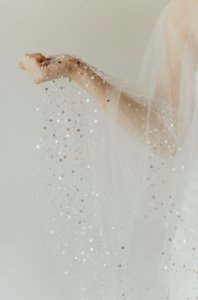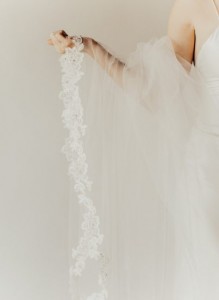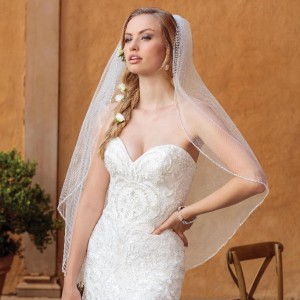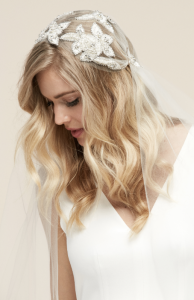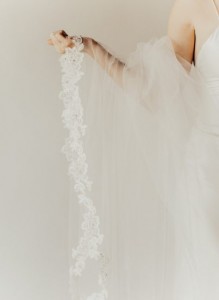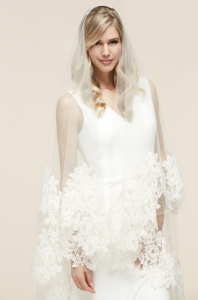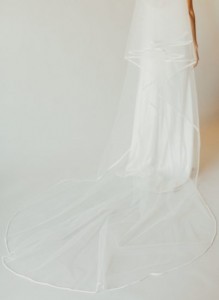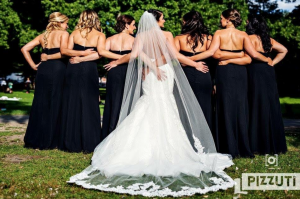 (Last photo shown is one of our very own brides – veil purchased at Ve'Lace Bridal!)